Top High Tech Best Must-Have Gadgets 2018
PHONE STABILIZER ALLOWS YOU TO CAPTURE UNSHAKEN VIDEOS
Vimble S is the device that allows you to make photos and videos having professional look. This premium mobile phone stabilizer has a built in feature of keeping an eye on your face and it tracks you automatically without assistance of a second person.
With the help of this phone stabilizer you can easily film the scenes in both portrait as well as landscape layout. In addition to characteristics like following faces and stabilizing footages Vimble S is capable of having camera controls with the help of integrated control panel. Controls like zoom, expose, white balance and focus are possible with built in controls in handle of Vimble S. All these camera controls as well as gimbal's movement are accessible with only one hand. It balances the smartphones to remove undesirable movement in the 3D space. The motors, assembled in it, are completely silent and so not to disturb the audio of the recording.
PORTABLE AC OUTLET POWER BANK
The Portable Power Outlet is the first AC outlet you can take with you. Power small devices such as phones, laptops, lights, digital cameras and medical devices; it's the last battery pack you will ever need. With a 27,000mAh capacity, the possibilities are countless.
SPECS OF THE CHARGETECH – 27,000MAH PORTABLE AC BATTERY PACK:
Capacity: 24,000mAh
USB Charging Ports Max Output: 5V/2.4
AC Outlet: 85 Watts
THE BIONIC KNEE BRACE; POWERING YOUR KNEE JOINT
Levitation is the world's first bionic knees brace which helps for physical activities supporting your muscles and joints. Levitation enables you to do extra what you love in your daily 
knee injury because it can progress the knee rehabilitation and renovate the pleasures of life.
Brace is a mechanical device used to assist the movement of a body part specially a joint.
BIONIC KNEE BRACE DEMO VIDEO:
DBELL: SMART WIRELESS WI-FI VIDEO DOORBELL
dbell, the smart video doorbell enables you to check who is at the door from your smartphone. You can monitor it from your tablet, PC or TV. Every time when a visitor press the doorbell the wireless and Wi-Fi connected dbell lets you answer the door.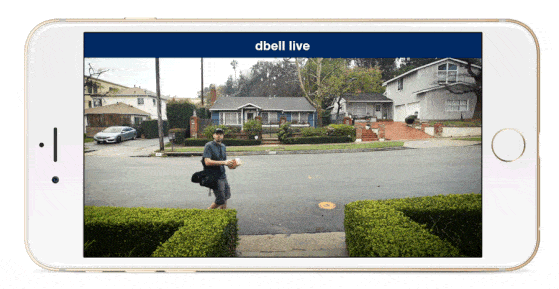 FEATURES OF THE SMART VIDEO DOORBELL:
dbell, the smart video doorbell comprises of most awaited features of a video doorbell. In addition to the ease of access to your door it is also the ultimate security solution. Some of the salient features for the smart video doorbell are given below:
It covers a wide area of 160o for video capturing.

dbell also bears motion sensor

It also has night vision to see at dark

The face plat of the dbell device is interchangeable

For better communication it has dual speaker

It senses audio along-with footage saving.

It has a built in speaker and microphone

The appliance is water proof with rating IP 66.

Two colors are available for each of the three versions.
PRYNT IPHONE CASE- PRINT SNAPS INSTANTLY & PORTABLY
Here is the option to enjoy and share that lost love in solid way with Prynt iPhone Case for iPhone 6, iPhone 6S and iPhone 7. To make your pictures real again Prynt is the ever first photo print case for iPhone. All that you are required to do is connect your iPhone to the case and get high quality HD prints for your favorite photos. The big thing for this devise is that it provides you an opportunity to print your photos instantly and absolutely anywhere.
DISTINGUISHING FEATURES OF PRYNT IPHONE CASE:
Prynt is using ink-free technology so you don't have to pay for cartridges' messy

Ever first mobile phone printer

Prints your love for others instantly and effectively

Can convert the photo shots into a movie

Light weight and portable

Print your pics anytime, anywhere

Available in four different colors: Black, White, Pink, Blue
A REMOTE CONTROL FOR EVERYTHING IN YOUR HOME
Have you thought about controlling all the devices (smart devices) at your home with a single remote? For a long time peoples were trying to design such a remote control that can work with all electronic (smart) devices at home.  And now this is possible. The French developers, Sevenhugs, have recently developed Smart Remote that can control all smart things at your home.
The remote find location within 4cm to 40cm, says Tchedikian, CEO at Sevenhugs. The Smart Remote can work with more than 25,000 Bluetooth or Wi-Fi enabled devices. The devices include smart TVs, smart bulbs, Sonos wireless speakers, Nest's Thermostat and smart home hubs.
SATELLITE COMMUNICATOR WITH GPS NAVIGATION SOS FUNCTION
inReach SE+ is the satellite communicator that uses 100% global Iridium satellite coverage for 2-way messaging anywhere around the world. Plus, the built-in GPSenables basic on-screen grid navigation with a high-detail breadcrumb track-back trail. inReach SE+ will keep you connected in Canada's backcountry and the rest of the world.
Send and receive text messages to SMS and email addresses, post to social media accounts & communicate inReach-to-inReach
Trigger interactive SOS and contact with the 24/7 search and rescue monitoring center
Plan trips, manage your device, and store tracking data by using the Explore® web app
Follow routes, drop waypoints and find your way back with breadcrumb trackback trail and basic grid navigator
High-sensitivity GPS provides location and tracking data within 5 meters
Get weather forecasts for any location
Track and share your location with others using Mapshare®
Pair with mobile devices1 using the free Earthmate® app; access downloadable maps2, U.S. NOAA charts, color aerial imagery and more
FLOTATION WRISTBAND COULD SAVE LIVES FROM DROWNING
Kingii is the new flotation wristband for all those who love water! If you need help to stay afloat, pull the lever and an inflation bag will pull you to the surface. It's possible to drown in even shallow and calm waters, but some people choose not to wear a life jacket, particularly if it's hot and they're on holiday.
It can be inflated in NEARLY one second by pulling a metal lever and triggering the CO2 cylinder to fill the balloon, which can pull a wearer towards the water's surface.